GepaNet GmbH >> Netzwerk >> WatchGuard >> WatchGuard Firebox T35
WatchGuard Firebox T35-R (ruggedized)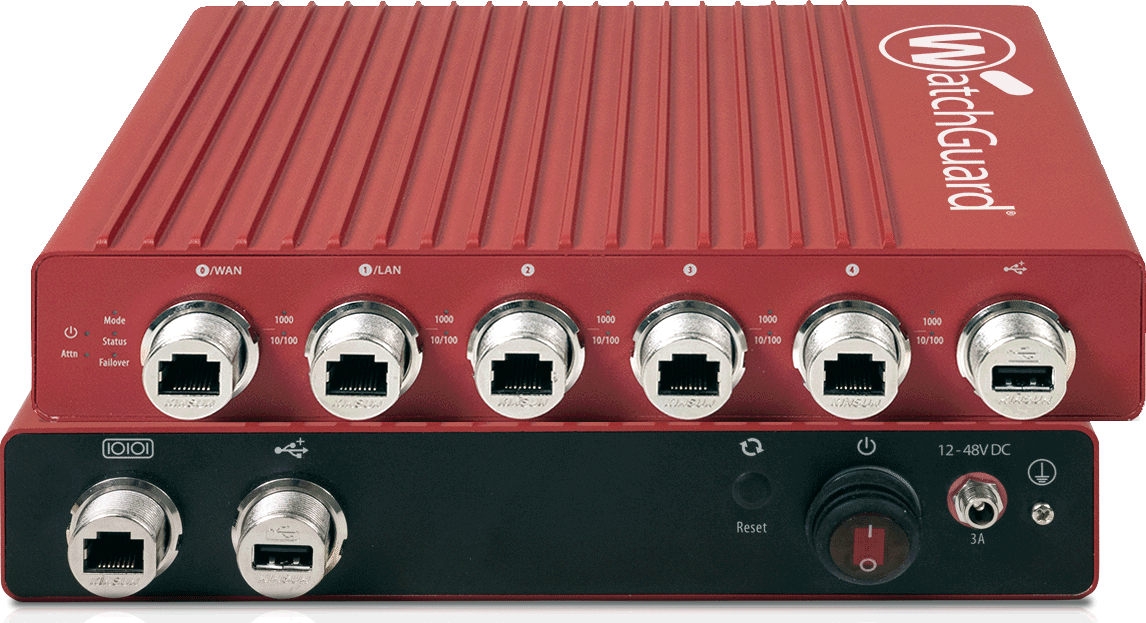 Herkömmliche Firewalls sind für Büroumgebungen oder die Rack-Montage in einem klimatisierten Serverraum ausgelegt, in denen Probleme durch Temperatur, Wasser und Staub vernachlässigbar sind.
Robuste WatchGuard Firebox T35-R Firewalls ermöglichen erstklassige Leistung und Sicherheit in extremen Produktions- und Fertigungs-Umgebungen. Die Firebox T35-R Appliances sind vollständig staubdicht und spritzwassergeschützt, können bei Temperaturen von -40 bis +60 Grad Celsius eingesetzt werden und bieten selbst unter extremen Bedingungen in nicht traditionellen Netzwerkumgebungen zuverlässige Sicherheit und Konnektivität.
Der robuste Rahmen macht benutzerdefinierte Gehäuse überflüssig. Die Site-to-Site-VPN-Konnektivität ist einfach, zuverlässig und verwaltbar. Administratoren können auf diese Weise bedenkenlos erweiterte Sicherheitslösungen gegen Malware, Netzwerkbedrohungen, Viren, Würmer, Ransomware uvm. aktivieren.
Als IP64-konformes Gerät ist die Firebox T35-R die leistungsstärkste industriell gehärtete kompakte Sicherheits-Appliance, die derzeit verfügbar ist.
Die WatchGuard Firebox T35-R enthält spezielle SCADA IPS-Signaturen zum Schutz vor bekannten Exploits gängiger industrieller Kontrollsysteme (ICS). Damit ist sie die ideale Wahl für Remote-Standorte mit ICS-Sicherheitsanforderungen.
Variable DC-Stromversorgung von 12 bis 48 V mit optionalem AC-Netzteil. DIN-Schiene im Lieferumfang enthalten.
WatchGuard Firebox T35-R LEISTUNG
DATENDURCHSATZ
940 Mbit/s Firewall (UDP 1518)
560 Mbit/s Firewall (IMIX)
560 Mbit/s VPN (UDP 1518)
325 Mbit/s Antivirus
300 Mbit/s IPS (vollständiger Scan)
203 Mbit/s UTM (vollständiger Scan)
151 Mbit/s HTTPS (IPS aktiviert, vollständiger Scan)
96 Mbit/s VPN (IMIX)
KAPAZITÄT
5 Schnittstellen RJ45 10/100/1000
1,3 Mio. gleichzeitige Verbindungen
135.000 gleichzeitige Verbindungen (Proxy)
6800 neue Verbindungen pro Sekunde
50 VLANs
20 TDR-Host-Sensoren
VPN-TUNNEL
25 Zweigstellen-VPN
25 Mobile VPN
----------------------------------
WatchGuard Firebox T35
Nachfolgemodell der T35 seit Juni2020: WatchGuard Firebox T40
WatchGuard Firewall
Beschreibung



WatchGuard Firebox T40 -W

WatchGuard Firebox T40 20 Benutzer 300 Mbps UTM

Die -W Modelle unterstützen Wireless 802.11 a/b/g/n

WatchGuard Promo
Trade-Up Programm
Trade-In Programm
Sie möchten ein größeres Modell? Oder einen anderen Hersteller wie Fortinet, Sophos, Sonicwall,... ablösen und mit WatchGuard Trade-In zur supergünstigen Firewall?
IT-Sicherheit ist keine Frage der Unternehmensgröße. Hacker, Malware und Botnets machen schon lange nicht mehr vor kleinen Firmen und Remote-Offices halt. Auch Kleinstunternehmen werden immer öfter Ziel solcher Angriffe. Die Unternehmen stehen dabei vor der Herausforderung, auf diese zunehmende Sicherheitsbedrohung zu reagieren, ohne dass IT-Kosten und -Komplexität ausufern.
Das WatchGuard-Firewall-Portfolio hat deshalb Zuwachs bekommen: WatchGuard präsentiert mit der Firebox T35 seine neueste Sicherheits-Firewall. Mit der WatchGuard Firebox T35 können die Netzwerkanforderungen des PCI DSS-Standards erfüllt werden. Die Total Security Suite verhindert das Eindringen bösartiger Software in die PCs und POS-Systeme. Dimension unterstützt mit integrierten Dashboards und Berichten die Überwachung und Berichterstattung über Compliance-relevante Belange. Mit WatchGuard AuthPoint können Sie die Anforderungen an die Multifaktor-Authentifizierung gemäß Anforderung 8.3 der PCI DSS-Version 3.2 erfüllen.
Die WatchGuard Firebox T35 adressiert Firmen oder kleine Niederlassungen mit bis zu 25 Mitarbeitern. Diesen garantiert die zweitkleinste Plattform der WatchGuard Firewalls höchste Sicherheit für ihr Netzwerk, ihre Anwendungen und Daten - bei sehr geringem Administrationsaufwand. Die WatchGuard Firebox T35 nimmt durch spezifische Voice-over-IP (VoIP)-Proxies Sicherheitsattacken über Unified Communication-Systeme jegliche Angriffsfläche. Der integrierte WebBlocker-Dienst ist in der Lage, risikoreiche Instant Messaging- und Peer2Peer-Verbindungen zu stoppen und deckt selbst verschlüsselte Angriffe auf.
Die WatchGuard Firebox T35 erfüllt optimal die Anforderungen von kleinen bis mittleren Zweigstellen und bietet:
Enterprise-Schutzlevel und -performance auch für kleinere Standorte
4 Gigabit Ethernet Ports
1 Gigabit Ethernet Port mit PoE
Bis zu 940 Mbit/s Firewall-Durchsatz
Bis zu 570 Mbit/s Intrusion Prevention (IPS) Performance
WatchGuard Firebox T35-W
Die WatchGuard Firebox T35-W unterstützt als Wireless Modell Dual-Band

802.11a/b/g/ac Technologie im 2.4 GHz oder 5 GHz Band. Der Wireless Guest Service unterteilt das Netzwerk für interne Anwender, Kunden und Gäste.
WatchGuard
Firebox T

WatchGuard Firebox T35/T35-W

Interfaces 10/100/1000
4 +1 PoE
6 +1 PoE
6 +2 PoE
Zusätzliche Verbindungen
-W: mit 802.11a/b/g/ac
-W: mit 802.11a/b/g/ac
-
Firewall Durchsatz
940 Mbps
1 Gbps
3,6 Gbps
VPN Durchsatz
360 Mbps
560Mbps
600Mbps
XTM Durchsatz
278 / 203 Mbps
523 / 378 Mbps
650 Mbps
Empfohlene Benutzer
ca. 20
ca. 35
ca. 60
I/O Interfaces
1 srl / 2 USB
1 srl / 2 USB
1 srl / 2 USB
VLANs
50
75
75
Gleichzeitige Verbindungen
1,3 Mio
1,3 Mio
800000
Branch Office VPN Tunnels
25
40
50
Mobile VPN IPSec/SSL
25
50
60
Fireware XTM Pro
ja
ja
ja
High Availability
Aktiv/Passiv
Aktiv/Passiv
Aktiv/Passiv
TDR Hostsensoren
20
35
WatchGuard APs
7
15
20
Gleichz. Auth Benutzer
200
Networking Features Standard
NAT: static, dynamic, 1:1, IPSec traversal, policy-based PAT / Traffic shaping and QoS: 8 priority queues, DiffServ, modified strict queuing / IP address assignment: static, DynDNS, PPPoE, DHCP (server, client, relay) / Port independence / VLAN support / VPN failover / Transparent/drop-in mode / BGP4, OSPF, RIP 1/2 / Policy-based VPN / Multi-WAN failover / Load balancing, Server Load balancing
Support / LiveSecurity
1 Jahr oder 3 Jahre Standard Support

1 Jahr und 3 Jahre Basic Security Subskription (BSS) oder Total Security Subskription (TSS) enthalten zusätzlich:

Application Control: BSS
Gateway AntiVirus. BSS
Intrusion Prevention Service (IPS): BSS
Network Discovery. BSS
Reputation Enabled Defense: BSS
spamBlocker with Virus Outbreak Detection. BSS
WebBlocker with HTTPS URL filtering. BSS
APT Blocker: TSS
Data Loss Prevention: TSS
Threat Detection and Response: TSS
Dimension Command: TSS
WatchGuard Support, Basic Security Suite oder Total Security Suite beim Kauf der WatchGuard Firebox T35

Die Firebox T35 Geräte von WatchGuard werden ab Werk wahlweise mit 1 Jahr oder 3 Jahren WatchGuard Support, Basic Security oder Total Security ausgeliefert. Die Pakete beinhalten im Einzelnen:
WatchGuard Support
Statefull Firewall, Mobile VPN, Branch Office VPN, Application Proxies, FireCluster, Rapid Deploy, Web UI, WatchGuard Dimension, Single Sign, Access-Point-Verwaltung, Hardware Vorab-Austausch, Software Updates, 24*7 technischer Support, 5 freie Supportfälle pro Jahr
WatchGuard Basic Security
Zusätzlich zu WatchGuard Support: Intrusion Protection, Application Controll, WebBlocker, SpamBlocker, Gateway Antivirus, Reputation enabled defense, Network Discovery
WatchGuard Total Security
Zusätzlich zu Basic Security: APT Blocker, Data Loss Protection, Dimension Command, Malware Detect and Respond, unlimitierte freie Supportfälle pro Jahr
Unterstützung der Firebox T35 Firewall durch WatchGuard Experten

Mit uns als einzigem "WatchGuard Gold Partner" zwischen Freiburg und Garmisch-Partenkirchen haben Sie erstklassige Sicherheitsexperten an Ihrer Seite, die Sie vor aktuellen und kommenden Sicherheitsgefahren schützen, denn die WatchGuard Gold Partnerschaft ist die höchste Qualifizierungsstufe, die ein WatchGuard Authorized Reseller bei WatchGuard erreichen kann. Wir konfigurieren und implementieren täglich WatchGuard-Produkte (und eine Vielzahl anderer Firewalls unterschiedlicher Hersteller) bei unseren mittelständischen und großen, internationalen Kunden. Deshalb können wir ein sehr breites Spektrum an Know-how vorweisen. Bestätigte Referenzen aus einer Vielzahl erfolgreicher Firewall- und VPN-Projekte aller Größen nennen wir Ihnen gerne auf Anfrage. Werden auch Sie ein zufriedener WatchGuard-Kunde bei GepaNet GmbH.

Für eine Installationspauschale richten wir Ihr WatchGuard Firebox T35 Firewall vollständig und betriebsbereit ein. Dies gilt auch für Geräte, die nicht bei uns gekauft worden sind. Komplette VPN Strukturen mit mehreren Standorten können vor der Auslieferung vollständig für Sie konfiguriert werden. Gerne nehmen wir die WatchGuard Firewalls europaweit bei Ihnen vor Ort in Betrieb. Internationale Standorte betreuen wir über Partnerfirmen oder durch Vorkonfiguration und Fernwartung.

Mit unserem umfangreichen Schulungs-Angebot zum Thema "WatchGuard Firewalls" bereiten wir IT-Profis auf mögliche Gefahren und Angriffe im Web vor und bieten zahlreiche bewährte Lösungsmodelle an. Die Kurse fangen mit der Grundkonfiguration der WatchGuard Firewalls und der Fireware XTM an und führen bis in Detail mit erweiterten Funktionen wie Multi-WAN, VLAN, FireCluster, AD-Authentifizierung, Managementserver und VPN ein.
WatchGuard Firebox T-Series T35 Preisliste
Für günstigste WatchGuard Firebox T35 Angebote mit bis zu 30% NC-Projekt-Rabatt wenden Sie sich bitte direkt an unseren WatchGuard Vertrieb. Sie werden sehen es lohnt sich:
Angebots-Telefon +49 8382-9479825 / Angebots-Mail: watchguard@gepanet.com. Sie werden kompetent beraten und erhalten innerhalb von kürzester Zeit Ihr Angebot.
Firebox T-Series T35

WatchGuard Firebox T35 – 620 Mbps Firewall, 150 Mbps VPN, 135 Mbps UTM; 5 Gb Ethernet interfaces, incl. 1 POE+, 1 serial, 2 USB; 40 BOVPN tunnels, 25 IPSec and SSL; 200,000 concurrent connections;

WatchGuard Firebox T35 + Standard Support

WGT35001-WW
WatchGuard Firebox T35 mit 1 Jahr Standard Support
WGT35003-WW
WatchGuard Firebox T35 mit 3 Jahren Standard Support

WatchGuard Firebox T35 + Basic Security Suite

WGT35031-WW
WatchGuard Firebox T35 mit 1 Jahr Basic Security Suite (enthält Standard Support, Web-, spamBlocker, Gateway AV, IPS, RED, APP Control, Network Discovery)
WGT35033-WW
WatchGuard Firebox T35 mit 3 Jahren Basic Security Suite (enthält Standard Support, Web-, spamBlocker, Gateway AV, IPS, RED, APP Control, Network Discovery)

WatchGuard Firebox T35 + Total Security Suite

WGT35641-WW
WatchGuard Firebox T35 mit 1 Jahr Total Security Suite (enthält GOLD Support, Web-, spamBlocker, Gateway AV, IPS, RED, APP Control, Network Discovery, DLP, APT-Blocker, TDR, DNSwatch, Dimension Command)
WGT35643-WW
WatchGuard Firebox T35 mit 3 Jahren Total Security Suite (enthält GOLD Support, Web-, spamBlocker, Gateway AV, IPS, RED, APP Control, Network Discovery, DLP, APT-Blocker, TDR, DNSwatch, Dimension Command)

Competitive Trade In WatchGuard Firebox T35

WGT35083-WW
WatchGuard Competitive Trade In to WatchGuard Firebox T35 mit 3 Jahren Basic Security Suite (enthält Standard Support, Web-, spamBlocker, Gateway AV, IPS, RED, APP Control, Network Discovery)
WGT35693-WW
WatchGuard Competitive Trade In to WatchGuard Firebox T35 mit 3 Jahren Total Security Suite (enthält GOLD Support, Web-, spamBlocker, Gateway AV, IPS, RED, APP Control, Network Discovery, DLP, APT-Blocker, TDR, DNSwatch, Dimension Command)

Trade up WatchGuard Firebox T35

WGT35061-WW
WatchGuard Trade up to WatchGuard Firebox T35 mit 1 Jahr Basic Security Suite (enthält Standard Support, Web-, spamBlocker, Gateway AV, IPS, RED, APP Control, Network Discovery)
WGT35671-WW
WatchGuard Trade up to WatchGuard Firebox T35 mit 1 Jahr Total Security Suite (enthält GOLD Support, Web-, spamBlocker, Gateway AV, IPS, RED, APP Control, Network Discovery, DLP, APT-Blocker, TDR, DNSwatch, Dimension Command)
WGT35063-WW
WatchGuard Trade up to WatchGuard Firebox T35 mit 3 Jahren Basic Security Suite (enthält Standard Support, Web-, spamBlocker, Gateway AV, IPS, RED, APP Control, Network Discovery)
WGT35673-WW
WatchGuard Trade up to WatchGuard Firebox T35 mit 3 Jahren Total Security Suite (enthält GOLD Support, Web-, spamBlocker, Gateway AV, IPS, RED, APP Control, Network Discovery, DLP, APT-Blocker, TDR, DNSwatch, Dimension Command)

Standard Support Renewal

WGT35201
WatchGuard Standard Support Renewal 1 Jahr für Firebox T35
WGT35203
WatchGuard Standard Support Renewal 3 Jahre für Firebox T35

Basic Security Renewal

WGT35331
WatchGuard Basic Security Suite Renewal/Upgrade 1 Jahr für Firebox T35 (enthält Standard Support, Web-, spamBlocker, Gateway AV, IPS, RED, APP Control, Network Discovery)
WGT35333
WatchGuard Basic Security Suite Renewal/Upgrade 3 Jahre für Firebox T35 (enthält Standard Support, Web-, spamBlocker, Gateway AV, IPS, RED, APP Control, Network Discovery)

Total Security Renewal

WGT35351
WatchGuard Total Security Suite Renewal/Upgrade 1 Jahr für Firebox T35 (enthält GOLD Support, Web-, spamBlocker, Gateway AV, IPS, RED, APP Control, Network Discovery, DLP, APT-Blocker, TDR, DNSwatch, Dimension Command)
WGT35353
WatchGuard Total Security Suite Renewal/Upgrade 3 Jahre für Firebox T35 (enthält GOLD Support, Web-, spamBlocker, Gateway AV, IPS, RED, APP Control, Network Discovery, DLP, APT-Blocker, TDR, DNSwatch, Dimension Command)

Lizenzen

WGT35101
WatchGuard WebBlocker 1 Jahr für Firebox T35 Models
WGT35111
WatchGuard spamBlocker 1 Jahr für Firebox T35 Models
WGT35121
WatchGuard Gateway AntiVirus 1 Jahr für Firebox T35 Models
WGT35131
WatchGuard Intrusion Prevention System 1 Jahr für Firebox T35 Models
WGT35141
WatchGuard Reputation Enabled Defense 1 Jahr für Firebox T35 Models
WGT35151
WatchGuard Application Control 1 Jahr für Firebox T35 Models
WGT35161
WatchGuard Data Loss Prevention 1 Jahr für Firebox T35 Models
WGT35171
WatchGuard APT Blocker 1 Jahr für Firebox T35 Models
WGT35181
WatchGuard Network Discovery 1 Jahr für Firebox T35 Models
WGT35163
WatchGuard Data Loss Prevention 3 Jahre für Firebox T35 Models
WGT35173
WatchGuard APT Blocker 3 Jahre für Firebox T35 Models

Firebox T-Series T35-W

WatchGuard Firebox T35-W – 620 Mbps Firewall, 150 Mbps VPN, 135 Mbps UTM; 5 Gb Ethernet interfaces, incl. 1 POE+, 1 serial, 2 USB; 40 BOVPN tunnels, 25 IPSec and SSL; 200,000 concurrent connections; 802.11a/b/g/n/ac wireless.

WatchGuard Firebox T35-W + Standard Support

WGT31001-WW
WatchGuard Firebox T35-W mit 1 Jahr Standard Support
WGT31003-WW
WatchGuard Firebox T35-W mit 3 Jahren Standard Support

WatchGuard Firebox T35-W + Basic Security Suite

WGT31031-WW
WatchGuard Firebox T35-W mit 1 Jahr Basic Security Suite (enthält Standard Support, Web-, spamBlocker, Gateway AV, IPS, RED, APP Control, Network Discovery)
WGT31033-WW
WatchGuard Firebox T35-W mit 3 Jahren Basic Security Suite (enthält Standard Support, Web-, spamBlocker, Gateway AV, IPS, RED, APP Control, Network Discovery)

WatchGuard Firebox T35-W + Total Security Suite

WGT31641-WW
WatchGuard Firebox T35-W mit 1 Jahr Total Security Suite (enthält GOLD Support, Web-, spamBlocker, Gateway AV, IPS, RED, APP Control, Network Discovery, DLP, APT-Blocker, TDR, DNSwatch, Dimension Command)
WGT31643-WW
WatchGuard Firebox T35-W mit 3 Jahren Total Security Suite (enthält GOLD Support, Web-, spamBlocker, Gateway AV, IPS, RED, APP Control, Network Discovery, DLP, APT-Blocker, TDR, DNSwatch, Dimension Command)

Competitive Trade In WatchGuard Firebox T35-W

WGT31083-WW
WatchGuard Competitive Trade In to WatchGuard Firebox T35-W mit 3 Jahren Basic Security Suite (enthält Standard Support, Web-, spamBlocker, Gateway AV, IPS, RED, APP Control, Network Discovery)
WGT31693-WW
WatchGuard Competitive Trade In to WatchGuard Firebox T35-W mit 3 Jahren Total Security Suite (enthält GOLD Support, Web-, spamBlocker, Gateway AV, IPS, RED, APP Control, Network Discovery, DLP, APT-Blocker, TDR, DNSwatch, Dimension Command)

Trade up WatchGuard Firebox T35-W

WGT31061-WW
WatchGuard Trade up to WatchGuard Firebox T35-W mit 1 Jahr Basic Security Suite (enthält Standard Support, Web-, spamBlocker, Gateway AV, IPS, RED, APP Control, Network Discovery)
WGT31671-WW
WatchGuard Trade up to WatchGuard Firebox T35-W mit 1 Jahr Total Security Suite (enthält GOLD Support, Web-, spamBlocker, Gateway AV, IPS, RED, APP Control, Network Discovery, DLP, APT-Blocker, TDR, DNSwatch, Dimension Command)
WGT31063-WW
WatchGuard Trade up to WatchGuard Firebox T35-W mit 3 Jahren Basic Security Suite (enthält Standard Support, Web-, spamBlocker, Gateway AV, IPS, RED, APP Control, Network Discovery)
WGT31673-WW
WatchGuard Trade up to WatchGuard Firebox T35-W mit 3 Jahren Total Security Suite (enthält GOLD Support, Web-, spamBlocker, Gateway AV, IPS, RED, APP Control, Network Discovery, DLP, APT-Blocker, TDR, DNSwatch, Dimension Command)

Standard Support Renewal

WGT31201
WatchGuard Standard Support Renewal 1 Jahr für Firebox T35-W
WGT31203
WatchGuard Standard Support Renewal 3 Jahre für Firebox T35-W

Basic Security Renewal

WGT31331
WatchGuard Basic Security Suite Renewal/Upgrade 1 Jahr für Firebox T35-W (enthält Standard Support, Web-, spamBlocker, Gateway AV, IPS, RED, APP Control, Network Discovery)
WGT31333
WatchGuard Basic Security Suite Renewal/Upgrade 3 Jahre für Firebox T35-W (enthält Standard Support, Web-, spamBlocker, Gateway AV, IPS, RED, APP Control, Network Discovery)

Total Security Renewal

WGT31351
WatchGuard Total Security Suite Renewal/Upgrade 1 Jahr für Firebox T35-W (enthält GOLD Support, Web-, spamBlocker, Gateway AV, IPS, RED, APP Control, Network Discovery, DLP, APT-Blocker, TDR, DNSwatch, Dimension Command)
WGT31353
WatchGuard Total Security Suite Renewal/Upgrade 3 Jahre für Firebox T35-W (enthält GOLD Support, Web-, spamBlocker, Gateway AV, IPS, RED, APP Control, Network Discovery, DLP, APT-Blocker, TDR, DNSwatch, Dimension Command)
WatchGuard Firewall
Beschreibung

WatchGuard Firebox T20 -W




WatchGuard Firebox T40 -W

WatchGuard Firebox T20 5 Benutzer 154 Mbps UTM
WatchGuard Firebox T40 20 Benutzer 300 Mbps UTM

Die -W Modelle unterstützen Wireless 802.11 a/b/g/n

WatchGuard Firebox T80

WatchGuard Firebox T80 50 Benutzer 631 Gbps UTM

optionaler SFP+ Moduleinschub für 10GbE

WatchGuard Firebox M270
WatchGuard Firebox M370
WatchGuard Firebox M470
WatchGuard Firebox M570
WatchGuard Firebox M670

WatchGuard Firebox M270 70 Benutzer 1,6 Gbps UTM
WatchGuard Firebox M370 200 Benutzer 2,6 Gbps UTM
WatchGuard Firebox M470 400 Benutzer 3,1 Gbps UTM
WatchGuard Firebox M570 750 Benutzer 4,4 Gbps UTM
WatchGuard Firebox M670 1000 Benutzer 5,4 Gbps UTM
WatchGuard Firebox M4600

WatchGuard Firebox M4600 3000 Benutzer
40Gbps FW / 8Gbps UTM
WatchGuard Firebox M5600 12000 Benutzer
60 Gbps FW / 11 Gbps UTM
WatchGuard FireboxV
WatchGuard Firebox Cloud
WatchGuard FireboxV virtuelle Firewall für VMware, MS Hyper-V oder KVM Hypervisor.
WatchGuard Firebox Cloud für Ihre AWS und Azure Cloud.
WatchGuard AccessPoints
WatchGuard AP125
WatchGuard AP225W
WatchGuard AP325
WatchGuard AP420

Unter WSM zentral administrierbare WatchGuard WLAN Access Points mit hoher Firewall-Sicherheit.
WatchGuard AP125, AP225W, AP325, AP420: die sichersten 802.11ac Wave2 AccessPoints.
WatchGuard Promo
Trade-Up Programm
Trade-In Programm
Sie möchten ein größeres Modell? Oder einen anderen Hersteller wie Fortinet, Sophos, Sonicwall,... ablösen und mit WatchGuard Trade-In zur supergünstigen Firewall?
GepaNet WatchGuard Dienstleistungen
WatchGuard Schulung
WatchGuard Training

Training, Schulung, Einrichtungs-Workshops, Zertifizierungs-Kurse mit zugelassenen WatchGuard Trainern. WatchGuard Certified Training Partner (WCTP)
WatchGuard Support

Sicherheitsberatung, Inbetriebnahme, Regeländerungen und Problembehebung durch ausgebildete, technische WatchGuard-Supporter
Managed Security Service
MSSP

Zentrale Verwaltung durch GepaNet MSSP. Administration, Regeländerungen, Pflege der VPN Struktur, Installation von Security Hotfixes, Update Service, Logging, Log-Auswertung, Reporterstellung, Backup, Restore, Hardwareservice, usw.
WatchGuard Subscription Services
WatchGuard FireCluster
Hochverfügbarkeit durch zweite Cluster-Firewall mit HA-Promo.
WatchGuard Lizenzen
WatchGuard Subscription Services; Standard Support, Basic Security Suite, Total Security Suite und Software-Updates
WatchGuard APT Blocker
WatchGuard APT: Abwehr von Advanced Persistent Threats.und unbekannter Malware
WatchGuard Mobile Security
Mobile Security: Schutz für Android und iOS.
WatchGuard Dimension
WatchGuard Dimension: Visualisierung und optionale Verwaltung über Dimension Command.
WatchGuard TDR
TDR: Bedrohungsanalyse und Abwehrkorrelation zwischen Firewall und Endpoints
WatchGuard DNSwatch

DNSWatch verringert Infektionen durch Schadsoftware, indem bösartige DNS-Anforderungen blockiert werden
WatchGuard AccessPortal
Zentraler Zugangspunkt für gehostete Anwendungen und sicherer, clientloser Zugriff auf interne Ressourcen.
WatchGuard IntelligentAV
Signaturlose Anti-Malware mit künstlicher Intelligenz zur automatischen Erkennung von Zero-Day-Schadsoftware.
WatchGuard AuthPoint
Multifaktor Authentifizierung: Push, OTP oder QR-Code
WatchGuard System
Manager (WSM)

Zentrale Firewall-Verwaltung. Die Konfiguration und VPN Struktur wird zentral, einfach verwaltet und verteilt.

Panda Security

100% Malware Erkennung und Beseitigung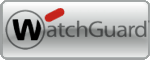 WatchGuard Firebox T35 Firewall